Best Breakfast in Tarifa
Power house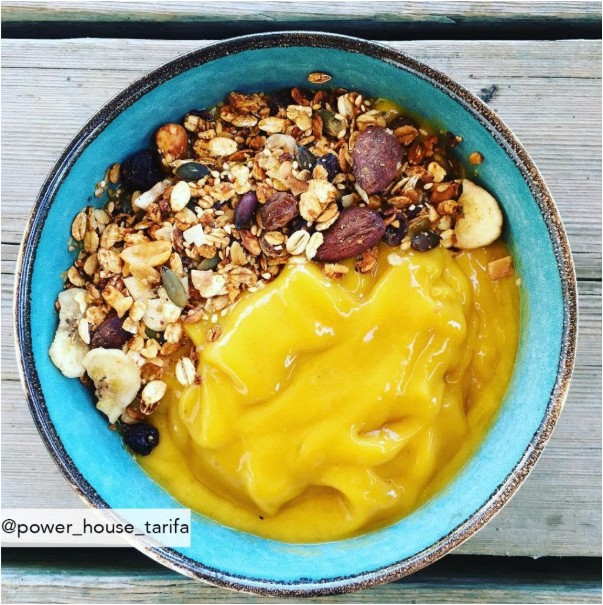 Facebook | Instagram
On the way to Valdevaqueros next to the Cepsa petrol station, you will find this small shack that offers a lot of healthy options for your breakfast or after session snack. In Power House the Açai bowl is the bomb, sprinkled with homemade granola, chia seeds and coconut flakes, it will definitely make your taste buds appreciate every spoon of it. Also we suggest trying mango and coconut bowl, that are super tasty and without the guilt.
Surla
Facebook | Instagram
Very cozy place best known for its breakfast selection from typical breakfast dishes like crepes, eggs and croissants to açai bowls, and great coffee to start your day strong. Located just next to the beach, they are open all day with all kinds of food. Aside from their breakfast menu, you should go for lunch and try their burgers, wraps, pasta and daily menus. Their home made juices are all incredible with many options, and they also have a lot of options for Tea . The place is stylish, with really good internet so it's a nice spot to have a Meeting with friends before or after your kite sesh.
Best Tapas in Tarifa
El Lola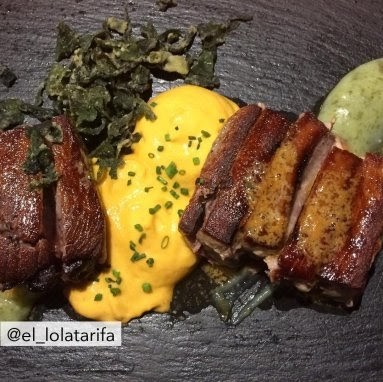 Facebook | Instagram
If you go to Lola in the summertime, try to get there before 9pm if you want to get a table, because this place tends to get packed and you will have to wait for a long time if you wanna get dinner. But once you do get the table, you'll understand why it's so busy. The bartenders are gonna help you out in case you don't even wanna look at the menu and they will most likely make you laugh. You can tell they are having a good time. The bar is medium sized but they have a huge terrace in the old town that serves over 100 people with probably the most modern seafood tapas and dishes in town. Their cuisine is a mix of modern spanish recipes, with a mix of japanese influence in some of their dishes. A must try if you're in Tarifa.
Nº6 Cocina sencilla
Facebook | InstagramReally stylish and trendy place located in the old town of Tarifa. They opened only a couple of years ago but they have already established their name. The best thing about this place is that they have great selection of vegetarian, seafood and also meat dishes, and they all have their own special touch. Our favorite dishes are the potato and sweet potato plate, the octopus, "saquitos de tofu" and many more. Great place to also enjoy a good glass of wine.
Los Melli
Facebook | Instagram
We can't make a guide about tapas in Tarifa and not mention Los Melli, even though most people already know this place, they are 100% local and they've been a huge success for many years already. You will find the best tapas with local seafood. You have to try their tuna balls, patatas bravas, croquetas de chocos and their fried fish. If you like seafood, this is the place for you.
El Francés
Facebook | Instagram
Maybe one of the busiest restaurants in Tarifa, during summer you definitely need to call and ask for reservation, otherwise it will be really hard to find a table. We recommend all the dishes, their "montaito de atun" is well known to start feeling the taste of this place! They have an amazing team that will take care of you and make your lunch or dinner a nice experience in the heart of Tarifa's old town. You can also enjoy live music from the street artists that play in front of the terrace making your night even better.
Anca Curro
Facebook | Instagram
This a typical spanish place in the center of old Town, with tradicional pictures of Spain culture like bull fights and flamenco singers. The place is usually busy, they have a really good old cheese followed by a great Rioja wine. The jamón ibérico is probably the best in town. They are specialized in pork meat, and their dishes are well prepared by the owner Curro. Close to everything in old Town, you can eat outside on the pedestrian street and have a great local experience and feel the Andalusian spirit.
Vegetarian & Vegan Friendly Places
After a good kite session or intense lesson you want to recharge your energy with a healthy meal, and Tarifa has a lot of choice and variety. Usually you will find a mix of healthy ingredients cooked with mediterranean and local food style. Check our TOP 5 favorite places to go if you are looking for a veggie meal!
Andrea's Brunch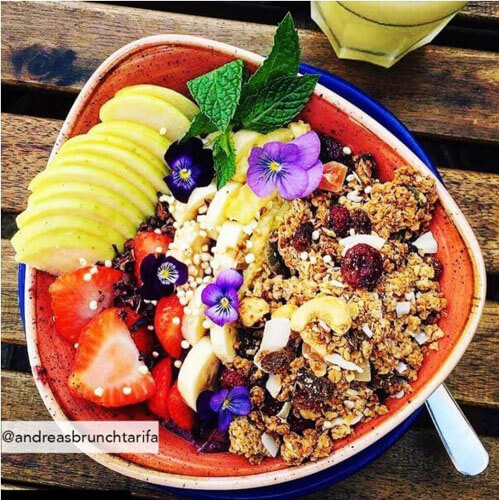 Facebook | Instagram
Located in the old town of Tarifa, it's an amazing place for a healthy breakfast, lunch and snacks during the day. Their fruit bowls, sandwiches, açai, vegan cakes and natural juices are mind blowing. If all the tables are full you can also order for take away. You can't come to Tarifa and not try their vegan chocolate or lemon cake!
Tarifa Eco Center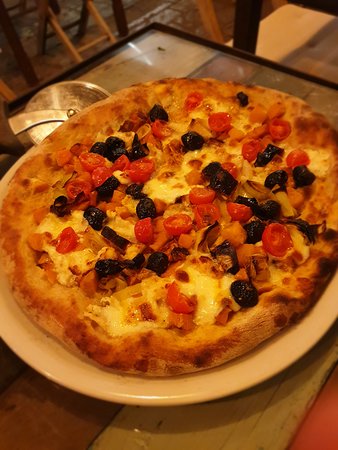 Facebook | Instagram
If you're looking for a good variety of plant based food, this is the place you should try. It is good to know that they are specialized in pizzas which are cooked in a wood oven, and every single one of their dish can be ordered vegan, including pizzas. Our top picks are of course the vegan pizza, and a lot of typical Spanish dishes with vegan substitutes like the famous "Ensaladilla Rusa", "Salmorejo" and many others. Eco Center is also a great place to do other activities such as Yoga or dancing classes during the day, as well as enjoying shows and jam sessions certain days of the week. Check their facebook for more details.
Chilimosa
Facebook | Instagram
This little restaurant situated next to Puerta de Jerez is most famous for its onion bhajis and great selection of vegetarian and vegan dishes. Our top picks from their menu, aside from the bhajis, are the vegan burger, the seasonal veggie curry which comes with rice and will fill you up if you're really hungry, the falafel wrap and the taster plate.
Mic Moc
Facebook | Instagram
If you're looking for a bit fancier and more exclusive restaurant, this would be your best choice. Their cozy decoration will make you feel at home. They have a great selection of vegetarian/ vegan and also a good variety of seafood and mediterranean cuisine (their paella is awesome) so everyone can enjoy this restaurant. It's a little more expensive than the others but it's worth it because of the quality of their meals. The location is nice and next to the port. They also have a terrace for the warmer months.
Piri Piri
Facebook | Instagram
One of the best places for lunch, as they are open during midday. You can find Thai wok dishes, curries, vegetable moussaka and more fresh daily inspirations. This is probably the place we go the most in Tarifa as they daily menu price is unbelievable. Perfect to fuel before a kite session and keep your wallet happy at the same time! Alex's favorite is the chickpea bowl and Toni always goes for the rice and veggie curry ????
Best Italian Food & Pizza in Tarifa
La Tribu
Facebook | Instagram
One of the best price and quality ratio you can find in Tarifa, really cheap beer and super good pizza. It's a really old school place from the windsurfing days where there's always good atmosphere and you can enjoy some nice surfing videos while you enjoy their famous pizza and even some nice mojitos and cocktails. They also have a second restaurant in Valdevaqueros.
El granero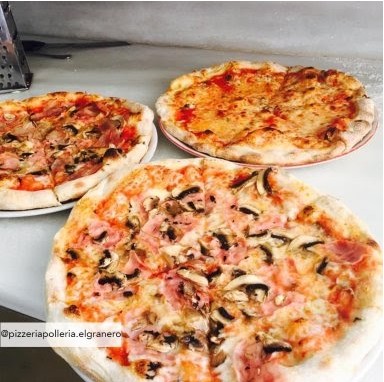 Facebook | Instagram
Small pizza place owned by an Italian chef that makes the most authentic Italian pizzas. You won't find another pizza as perfect as this one in Tarifa, always with the best ingredients. It is located next to our shop and if you want a take away or enjoy the most tasty pizza, this is the place to go.
La burla
Facebook | Instagram
This is a mix of italian food combined with the spanish style of tapas. They have a huge variety of tapas with a good price. We suggest for you to try their tapas combo, usually you pay for 5 tapas and you get 6 of them, that way you can try all the flavors of Italy and Andalucia. They are really fast and also offer awesome desserts. Located in front of the Tarifa port, also with a small terrace to enjoy the summer nights.
Best Burger in Tarifa
Pacha mama
Facebook | Instagram
A short drive out of the city, you can find this restaurant with a swimming pool to cool off during those hot Andalusian summer days. Our recommendation is to take the pacha mama burger and ask for a double up (2 patties) it will fill you up. Also there are great variety of grilled meats & pizzas, so without a doubt you will find something good to eat down there.
California Burger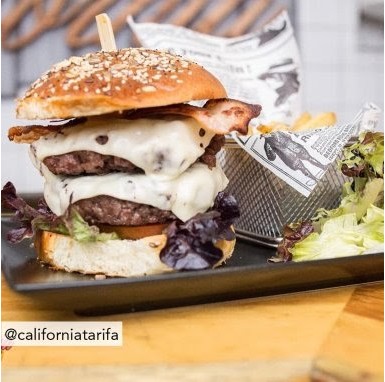 Facebook | Instagram
This place specialises in burgers and they're damn good at it. They offer 11 different choices of burgers. Our favourite ones are ox (buey) burger and beef with pistachios and caramelised onions. During the almadraba season, they offer tuna steak burger from the local caught Atlantic bluefin tuna, which is clearly a good choice to try out. If you cannot get a table down there, you can ask for take-away and have your burger in the old town of Tarifa.
El montaito de Juanqui
Facebook | Instagram
This place is so far the one with the most options of hamburgers or sandwiches. Over 50 options with chicken, pork, salmon, spanish ham, bacon. The owner is a local guy that used to work as a fisherman, he is also well known for having a great memory and not writing down the orders, even in summer with a lot a of people there he remembers what everyone order. The most sold is the one with almond sauce, so far the best one in our opinion. If you like spicy food then you can try the one with jalapeno sauce that's incredible or miura sauce also great. You can order the sheep cheese and local wine that goes perfect with the food. They do have take away as well and the price is 3,50€ for any burger.
Local Gem
If you want to experience the local way of life and the true Spanish hospitality, we bring you a couple of places that not many people know but are worth a visit.
Ombligo
Facebook | Instagram
This place is located in the heart of old town and they have great options over there, you can get from really good tapas for only 1,50€, hamburgers that goes for 3,50€ or dishes for also affordable prices. They are local people and well known for being fast place with great quality and good location. If you a place to eat fast and keep going your night with a low budget right next of the most busy bars of town this the one. We recommend the Pompo burger and the tapa of chicharones. They do have take and also delivery, they are open the whole year.
Bar Polideportivo
Facebook | Instagram
Located next to Balneario kite spot, it's incredibly cheap and tasty, but you will still enjoy the views of the Island, Morocco the beach and the kiters if it's a nice and windy day. It' a nice place to catch some sun whilst enjoying their home cooked tapas or sandwiches.
Vino divino
Facebook | Instagram
We love this place because it's basically a wine shop, but you can buy the bottles and drink them there, and also they serve you single glasses if you wanna just try a couple different wines. Great way to start your night out in Tarifa!