About Mehdi
Kitesurfing since 2003
"My name is Mehdi, and I'm 25 years old. I was born in Essaouira, a beautiful town with a rich history located on the west coast of Morocco. I started surfing at the age of 7, and ever since my first ride on a surfboard, I developed a strong passion for water sports. I later tried windsurfing and kitesurfing, which I discovered at the age of 12 through a friend. From that moment on, I fell in love with kitesurfing, and it has become my true passion. After many years of kiting, I gained extensive experience and became an IKO kitesurf instructor. I have been teaching kiteboarding for 9 years now. It brings me immense joy and satisfaction to witness my students progress from beginners to independent riders. Sometimes, I even see them participating in competitions, which motivates me to give my best and strive towards achieving my own goals." -Mehdi is a rad kitesurfing instructor who knows the ins and outs of teaching beginners or helping advanced kitesurfers get better. He makes sure everyone is safe while they're out on the water doing their thing. To keep everyone in line, Mehdi uses a radio to chat with his students while they're out in the ocean. His Kite lessons come equipped with a life jacket, a harness, and a sweet kitesurf board. Plus, he knows everything there is to know about the weather and conditions in Essaouira, where he likes to ride. Mehdi's also on top of all the safety rules and regulations, so you know you're in good hands.
Languages
English, Frensh, Arabic
Prices
PRIVATE LESSON 1 STUDENT
50 € / hora
SEMI PRIVATE LESSON 2 STUDENTS
80 € / hora
GROUP LESSONS 3 STUDENTS
83 € / hora
GROUP LESSONS 4 STUDENTS
110 € / hora
Contratar clases de Kitesurf con Mehdi
FILL IN THE FOLLOWING FORM TO BOOK YOUR KITESURF CLASSES NOW
Choose how you want to pay
Single payment
€
Pay the full amount now and that is it!
Pay part now and part later
€
Pay € now and the rest (€) before starting your classes.
More information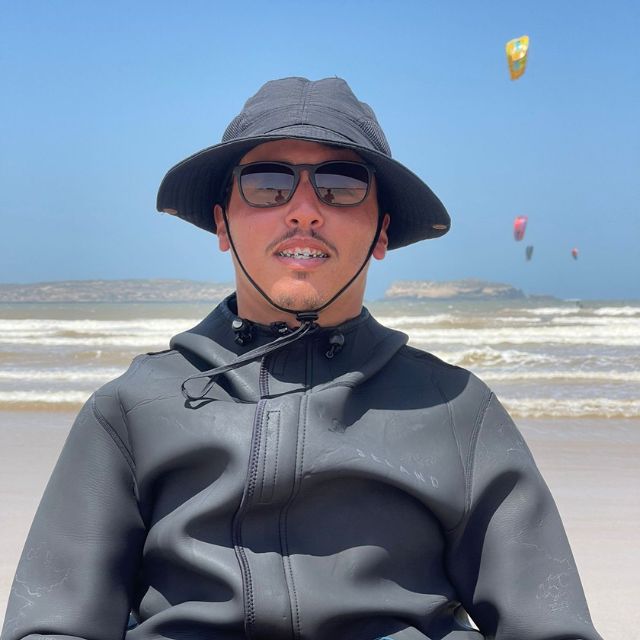 Your instructor: Mehdi
Course details
Spot: Essaouira
Sport:
Course:
Students:
Course dates: See dates
Personal information
Name:
Surname:
Email:
Phone:
Price details
Total amount: €
To pay now: €
Data is missing to make the reservation, please check the data before finalizing the reservation.
You have to accept the conditions to book.