Tarifa might be one of the best spots in the world to learn and practice Wing Foil. But it's important to know a few basic details before you go on your adventure to Tarifa, so you can better understand the spots, the wind, waves, where to stay, how to get there, other things to do, etc.
What are the pros and cons of Wingfoil in Tarifa?
Pros:
One of the best things is that we have wind pretty much all year round, so no matter when you come, you are almost certain to get on the water.

You have many spots so depending on the wind conditions, you can choose what's best for your level.

There's always a great atmosphere in town, it's full of riders that either kite, windsurf, wingfoil or surf, and people are rather friendly with each other. You can also enjoy great nightlife in town, especially in the medium-high season.

It's usually cheap to travel from anywhere in Europe and if you're not visiting in July/ August, you can always find apartments at a good price.

Lots of things to do other than wingfoiling, you can surf if there's swell (mostly in winter time), practice yoga, rock climbing, martial arts, CrossFit, check a big variety of restaurants, pubs and nightclubs.
Cons:
It's hard to get around and visit all the wing foiling spots if you don't have a car, but it's usually cheap to rent one in Malaga airport.

If you come in July/ August, it's usually quite crowded, so it gets more expensive to find accommodation.

Winds can get too strong sometimes, but there's other spots nearby if you want to enjoy a session with lighter wind.
How to get to Tarifa?
If you come from the UK, probably the easiest option is to fly to Gibraltar, as it's the closest airport located only 40 minutes away. The downside is that Gibraltar is a very small airport so there aren't many flights available.
Our top recommendation is to fly to Malaga, you usually get cheap flights from most European capitals and it's fairly cheap to find a rental car there. Then you're only 150km away from the wingfoil European capital.
Other airports nearby are Sevilla and Jerez.
If you prefer to take a bus you can check times online at checkmybus.es
Another option is to find a car ride with the app blablacar, it's usually quite cheap and there's always people doing this route.
What winds can I expect in Tarifa?
In Tarifa we have 2 dominant winds: Levante (East) and Poniente (West/ South Westerly). Any other direction is usually not very good in Tarifa.
Levante
It's a strong wind usually as it channels through the Mediterranean and accelerates a lot in Tarifa due to the proximity with Tánger. The wind direction is side off, which is really good for learning wingfoil as the water gets quite flat, so makes it easier for standing on the board and you'll also get enough power to ride a smaller wing. This wind can go up to 50 knots, but usually ranges between 25 and 35 knots. It's a little bit gusty as it's side off, but that's not too much of a problem for wingfoiling. In winter time, when there's swell and Levante wind you get super clean waves which is amazing for experienced wingfoil riders.
Poniente
This wind comes side onshore from the right, so it's more constant and also lighter. The downside is that it comes with quite a bit of chop, so it's not the best wind for learning wingfoil, but there's some spots where it's flatter, specially on the summer season. This wind ranges from 15 to 25 knots most of the time, and it usually comes in the afternoon.
Best time of the year for WingFoiling in Tarifa?
Of course every season has its pros and cons, so it really depends on each rider's preference, if you prefer stronger winds the best would be the summer, bigger waves usually happens from November- March, more windy days usually on mid-high season, so let's go a little bit more on detail on this.
Low season
(November- February)
It's the coldest time of the year, so temperatures go around 15-18 degrees, and it's possible that you get a rainy week and less windy days, but if you're in Tarifa for enough time, you can score epic conditions for the intermediate/ advanced rider specially.
Mid season
March-June /September-October)
Temperatures are usually from 18-25 degrees, water is warmer, and it's windy at least 4-5 days per week. It's harder to get some decent swell but you can get good days with both wind and waves occasionally. You can see that the town has a great atmosphere and all restaurants are open, there's many wingfoilers around but no mass tourism which is quite nice, so you can still find affordable places to stay and can turn up to eat without booking a table. Probably the best time of the year in Tarifa.
High season
(July-August)
This is when most people in Spain take holidays (specially July 15/August 15) so it can get crowded and expensive, but if you have no other choice, I won't be the one recommending against visiting Tarifa for some world class Wing Foiling. It's possible that Levante gets quite strong, and will be windy pretty much everyday, as there's always thermal wind with Poniente in Valdevaqueros. Temperatures are between 25-30 degrees and there's loads of people and party going on in town.
Best Wing Foil Spots in Tarifa
Playa Chica
It's a small beach located on the left side of the island, and it's an exclusive spot for wing foilers and windsurfers on the strongest days. The best conditions are medium to strong levante days, as the levante comes quite clean on this beach and can get some swell to be used for ramps on stormy days.

Los Lances
It works with both Poniente and Levante, but it might get too choppy with Poniente in mid and low season, especially if you're a beginner wing foiler. On the other hand, it's a great place to learn with levante as it gets really flat. Los Lances is the biggest beach in Tarifa, you can ride basically in front of town and next to the football stadium in mid and low season but in high season, you might have to go to Los Lances norte, just west of Rio Jara river. Keep in mind you'll need a rescue voucher for Levante days as it's offshore so you're safe in case of an accident. There are two companies who offer these services (New Angels and Sea Rescue). You can buy their rescue voucher in our shop.
Punta Paloma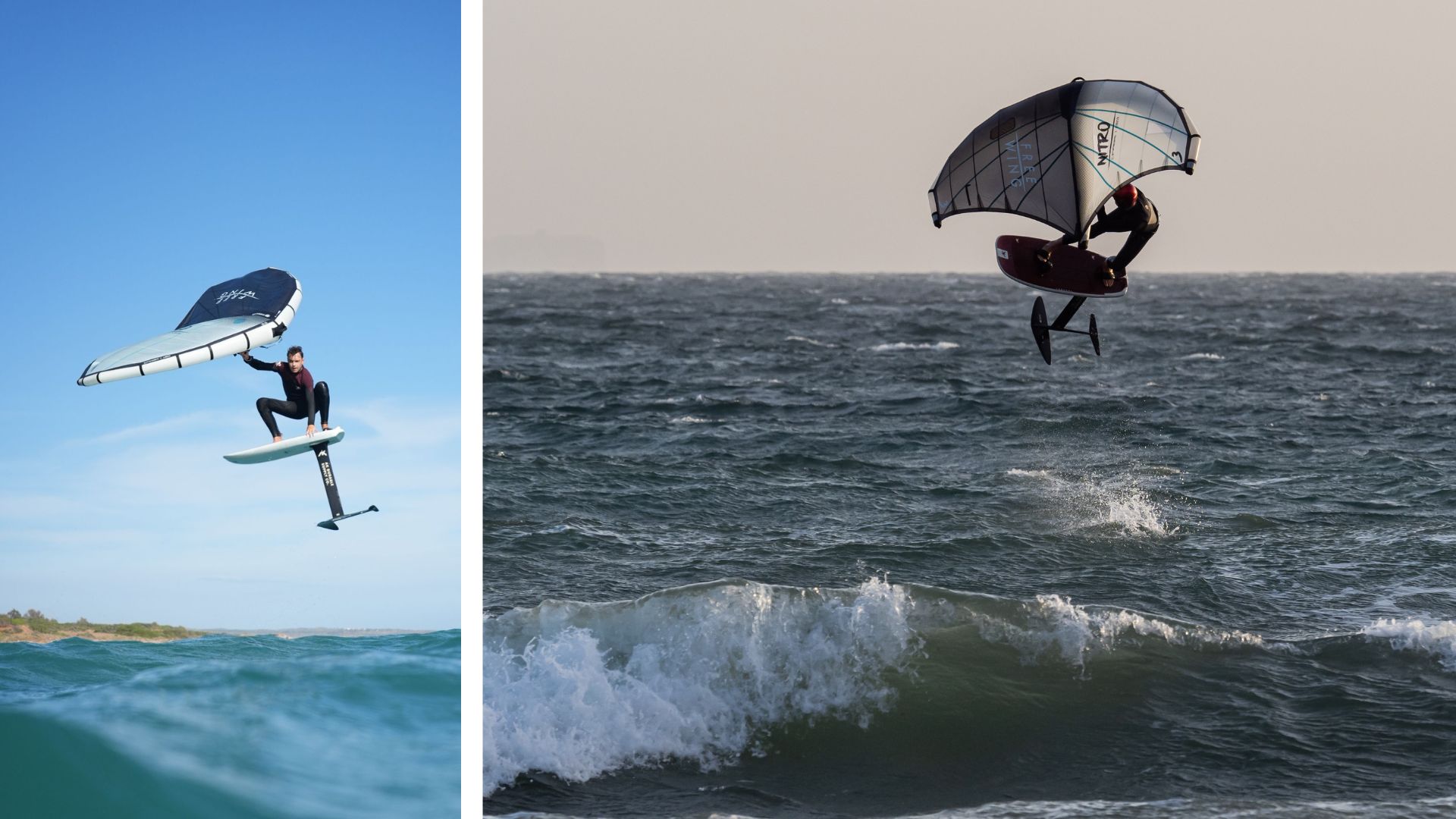 Another popular spot for Wing Foil that works with both winds. It's probably the spot with most wingfoilers in Tarifa in mid and high season. You can either park in Tangana beach bar, Bibo or in Punta Paloma Parking. With Poniente it's the spot that gets the flattest water so you can learn wingfoil easily there, and with Levante it's sheltered by the dune so you don't need rescue service as you're protected if you ride not too far away from the shore.
Benavides
In wintertime you can get very nice waves with Poniente storms, in the same spot at Punta Paloma but just a bit further out by the point break when you look out to the ocean, all the way to the right side. The wave is a long right that gets cleaner as the Point (Punta Paloma) blocks the wind.
Bolonia
Bolonia is a classic windsurfing spot that works on strong Levante days and gets a little bit more swell than other spots so you get a nice wave to surf or jump from. Kitesurfers are not allowed at this beach so it gets a lot less crowded on the water. It's about 15 minute drive from Tarifa and when you arrive in Bolonia you should drive all the way to the left side of the beach, there's a big parking there.
Best Wing Foiling Spots next to Tarifa
Caños de Meca
40 minute drive west of Tarifa, it's a great spot that gets less wind and more waves, so it's a good option when Levante gets way out of hand in Tarifa, there will always be less wind in Caños. Just be careful during low tide as there can be some rocks on the right side of the beach so you could hit them with your foil. Other than that, there can be a super fun and long wave for wing foiling. Recommended for intermediate/ expert riders.
Palmones
If it's even windier, Palmones is a great option. It's 40 minutes east, so gets a lot less wind than Tarifa when Levante is over 40 knots, it can be about 18-20 knots in Palmones. Doesn't usually get a lot of waves, unless there's an unlikely winter storm.
Rent Wing Foiling in Tarifa?
Traveling with Wing Foiling equipment can be a bit of a hassle, as the boards can be very big, specially if you're a beginner, so you can contact us and book your wing foiling great to save on that excess baggage fees and ride the most ideal board for your session. We only have carbon boards on all sizes, and the whole range of wings and foils from Airush and AK.
Check our rental page for prices:
https://alexpastorkiteclub.com/rent-kitesurf-equipment-tarifa/
Wing Foil Lessons in Tarifa?
Check out our Wing Foiling instructors available during the period of your stay and book your Wing Foil Course with the instructor that suits you best, from beginner to advanced level.
https://alexpastorkiteclub.com/instructors/
Where to stay in Tarifa?
Short term stay
Airbnb - a lot of options to choose from that suits your budget and other needs. Try to book as early as possible, especially during the high season as the prices rise significantly.
Hotel Lances - Definitely one of the nicest hotels in Tarifa, very close to the Los Lances beach (Football stadium spot).
Hotel La Residencia - Beautiful hotel right next to the port. It has an infinity pool on the roof overlooking Morocco, also a spa, restaurant and all that good stuff.

A lot of locals post in Tarifa Room Mate facebook group their houses during the high season, so you can find some options there.
Long term stay
To find a place for the whole year is quite a challenge as many of the places are renting only between September-June, and then renting short term for the summer.
Tip: the earlier you start searching the bigger chance to get something decent.
A good place to start your search is local facebook groups, where there are a lot of listings for long term rental, these groups are:
Another option is to go to real estate agents as they might have some good deals as well, it can be a little bit more expensive as they're an intermediary and have extra charges. https://www.facebook.com/TarifaDirect/
Restaurants & Cafes
Numero C
Currently the most hip place in Tarifa, they have super amazing specialty coffee, and no jokes it's the best in Tarifa. Also a great breakfast menu with many vegan options. A good place for digital nomads to work as well.
Pachamama
This place never disappoints with their tasty pizzas & burgers, and they are always super fast. It's on the way to Valdevaqueros, so you will need a car or taxi to get there.
No. 6 Cocina Sencilla
Classic Mediterranean food, you can find anything from tapas, vegan options to steaks and braised octopus. Located in the old town next to the marketplace.
Surla
Very nice breakfast place, lots of smoothies, eggs, pancakes, acai bowls and all the other good stuff. They also have a nice lunch menu with burgers, buddha bowls and wraps.
Beach Bars in Tarifa
Tumbao
Probably the best and most popular chiringuito in Tarifa. Super crowded in the summertime, but a very nice place to spend your afternoon next to Valdevaqueros beach with an amazing view and DJ playing all day long.
Waves
Located in Los Lances Norte beach. Popular place to spend time after your kite session. In the summer they are working till late and the party ends up in the parking lot after the working hours.
Balneario
The beach bar is just next to the Balneario spot. You can watch kiters and surfers while having nice food and drinks.
Afrikana
Located next to hotel Arte Vida, another popular place to have drinks and listen to live music.
Nightclubs in Tarifa
Cafe Del Mar
Tarifa's famed tourist destination for nightlife, Cafe Del Mar is the perfect place to grab a cocktail and relax with the world. On a typical night the music selection is leaning more towards electronic music like house and techno, but depends on the event and DJ. It's located at the outskirts of Tarifa in the industrial zone, so you might need to get a taxi to get there.
Check all the latest info here Facebook
Mombassa
Nightclub in the heart of Tarifa, it's probably the most popular one. If you're into reggaeton then this club is for you.
La Diosa
Kinda posh club that you'll need to dress up to get in as they have a face control policy. Also mainly
No wind activities
Day trip (driving)
Gibraltar - Visit the famous rock of Gibraltar, get some fish and chips and take the cable car to the top of the rock to see the famous monkeys, although be careful with them.

Vejer de la Frontera - A beautiful white town on top of the hill with many amazing restaurants and places to see.

El Palmar - The place to go for surfing around Tarifa. There are many surf shops and bars right on the beach.

Jerez de la Frontera - The city is best known for their production of Jerez sherry wine, flamenco and beautiful churches and architecture.

Sevilla - The capital and largest city of Andalusia. Beautiful city that you would need a whole day or even two to fully explore. There are a lot of museums, landmarks, parks, gardens and other kinds of tourist spots around the city that you can check out. Not recommended to go in the summer time as it's extremely hot down there.

Malaga - Another amazing city on the Costa del Sol, loads of sightseeing points of interest, nice restaurants
Surfing
Mostly during winter time is when we get the swells in Tarifa and surroundings, you just have to check the windguru forecast and if the wind is offshore or no wind, and there's more than 1m wave and around 12s of period, should start getting quite nice.
It can be surfed both from Atlantic Ocean (Ground swell) and Mediterranean sea (Wind swell)
There are few good spots in and around Tarifa, such as:
Balneario - Slab, if the swell direction is not right it might close out. You could possibly catch some barrels down here.

Arte Vida - Nice and easy beachbreak even if there are big waves elsewhere, sandy bottom.

Hurricane Hotel - Good beach break waves, but the bottom is rocks.

Punta Paloma - Right hand point break, usually smaller than other locations.

Yerbabuena - Located next to Barbate port. Park the car at the port and walk to the spot. Amazing right hand point break.

El Palmar - Super consistent beach break. Usually where everybody goes to surf if there is a good swell.

Sotogrande - Only works when there is strong levante and it brings a wind swell. The spot is located next to the port of Sotogrande.
Surf schools:
Hurley Surf School - Just opened in August 2021, the new Hurley shop has their own school as well, so go and check them out.
Yoga
Alizee Studio https://www.instagram.com/alizee_studio/
Mandalablue https://www.mandalablueyoga.es/
Om Shala https://www.instagram.com/omshalatarifa/
Capoeira & Brazilian Jiu Jitsu
Want to try something new like martial arts in Tarifa? Giuseppe will teach you the fundamentals of each sport and show you what it has to offer.
https://goo.gl/maps/qAEeBgEjXAqtmk6t9
https://www.instagram.com/rga.tarifa/
https://www.instagram.com/gentlesavagelife/
https://www.instagram.com/tribocapoeira/
Mountain Biking
There are few shops around Tarifa that rent normal and electric mountain bikes. They will also give you more information about the routes that you can explore.
Ebike Spain https://www.ebike-spain.com/
Repack Tarifa https://www.facebook.com/RepackTarifa/
Destem Bike https://www.destembike.es/
Climbing
The main spot for climbing around Tarifa is Betis (San Bartolo), there are over 200 high quality sandstone routes with grades ranging from 3c to 8a. Both bouldering and sports climbing.
There is a restriction to enter from March 1st to August 31st, because of the nesting period.
You can find some routes here: https://www.thecrag.com/en/climbing/spain/san-bartolo
Hiking
Hiking around Tarifa is another way to spend a nice day without the wind.
There are many routes around Tarifa and endless options to explore the surroundings.
One of the most famous routes is the "Buddha", it's quite an easy route where you climb the hill and on the top there is a rock with a buddha statue inside.
From there you can see the whole of Tarifa and Morocco.
You can find few routes here: https://www.komoot.com/guide/1540271/hiking-around-tarifa
Dolphin & Whale Watching
Another great way to spend an afternoon when there is no wind. You can expect to see dolphins, whales and orcas, so it's highly recommended to go on a trip.
Check out: