About Mike
Mike has been on a board for his whole life. Skateboarding, snowboarding instructor and kitesurfing for nearly 10 years.
Mike has been on a board for his whole life. Skateboarding since he can remember, by the time he was a teenager he was considered one of the best in southern Poland. Wanting more air, this led him to freestyle snowboarding and as a licensed instructor he taught and trained in acrobatic centers and snow parks across Europe. Unfortunately his snowboarding career ended with a knee injury but luckily it was this that that brought him to kitesurfing and he never looked back. He is an IKO instructor for nearly 10 years having taught in over 15 locations around the world. Mike coaches by always putting himself into his students' shoes. He aims to understand his student's goals and visualize the evolution of their progression to break down any kitesurfing maneuver into its parts - from kite control, to board, body, bar, and mindset. And what is most important to him is to teach safely and for students to have fun.
Languages
English, Polish
Prices
PRIVATE LESSON 1 STUDENT
65 € / hora
SEMI PRIVATE LESSON 2 STUDENTS
90 € / hora
GROUP LESSONS 3 STUDENTS
105 € / hora
GROUP LESSONS 4 STUDENTS
120 € / hora
Contratar clases de Kitesurf con Mike
FILL IN THE FOLLOWING FORM TO BOOK YOUR KITESURF CLASSES NOW
Choose how you want to pay
Single payment
€
Pay the full amount now and that is it!
Pay part now and part later
€
Pay € now and the rest (€) before starting your classes.
More information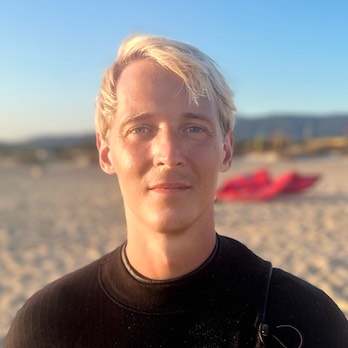 Your instructor: Mike
Course details
Spot: Tarifa
Sport:
Course:
Students:
Course dates: See dates
Personal information
Name:
Surname:
Email:
Phone:
Price details
Total amount: €
To pay now: €
Data is missing to make the reservation, please check the data before finalizing the reservation.
You have to accept the conditions to book.